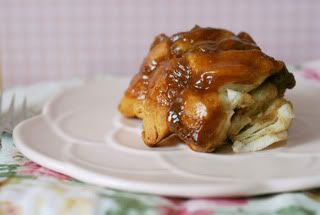 One of the most popular recipes on my site is a recipe I posted "way back when". Back when I was a newbie blogger, I posted a recipe for Oooey Gooey Monkey Bread. In that post, I encouraged people to get messy with their kids. Allow them to use their hands to eat and let all of their inhibitions go out the window.
I know that people are going to that particular post for the recipe, as I get a ton of hits on that post each day. I hope what folks are taking away from it, besides a really yummy recipe, is the thought to let loose some, HAVE FUN (if you haven't seen this video, you MUST!), and that living life without pristine cleanliness is often times a great way to live!
What are you doing to let loose a little? My mom called me the other day and shared something she read on the wall of her doctors office. It was something about raising happy children, and one of the suggestions was to make a cake and let your kids eat it without using their hands! Can you imagine the memory that would make in their minds? Well, we are doing it this weekend and I'll let you know how it goes!
If you are stuck in a "can't quite get the whole let loose thing" rut, I am posting a different recipe for a pull apart bread that can be a babystep for you getting started. I hope that you are enjoying your life because it can be very short... you might as well make the most of it and have fun!
Pull-Apart Caramel Coffee Cake from the March/April issue of Simple and Delicious Magazine
2 tubes (12 ounces each) refrigerated flaky buttermilk biscuits

1 cup packed brown sugar

1/2 cup heavy whipping cream

1 teaspoon ground cinnamon
Cut each biscuit into four pieces; arrange evenly in a 10-in. fluted tube pan coated with cooking spray. Combine the brown sugar, cream and cinnamon; pour over biscuits. Bake at 350° for 25-30 minutes or until golden brown. Cool for 5 minutes before inverting onto a serving platter. Yield: 12 servings.
Posted
on Saturday, March 1, 2008 at 09:00AM
by
Kristen
|
45 Comments
|
19 References
References (19)
References allow you to track sources for this article, as well as articles that were written in response to this article.
I? m privileged to be in Redmond, WA this week at the Microsoft Web Development Summit. (Special thanks to Glen Gordon for sending me an invitation.) Also in attendance are a good crowd of PHP developers from various backgrounds and experience, including developers from Drupal, Gallery, Facebook, CakePHP, Solar, core developers, ...

entirely safe and fun Very helpful!

If Music Is Your PASSION Home Archives Contact Radio Promo Mixes Links Wallpapers Dr Needles- Ping Pong (VDI001) 12 May 2008 Filed under: Deep , Dub , Electro , Electronic , Minimal , Minimal- Tech , Tech- House , Techno Author:

on 10 Aug 2007 at 8: 39 pm 28 30 ???Wordpress???? ??? WenYuanGe.

One problem related to weight loss is that after reducing a considerable amount of weight, the excess skin which was accommodating the previous volume tends to sag. It is important to get the skin to firm up and back to shape after losing a lot of weight.

I? m not sure if I told Mike what I was doing. If I didn? t, it was because it was my paycheck and I wanted to save something out of it, and didn? t think there was anything wrong with that which needed reporting. If I did tell him, Mike ...

To begin with you need to pay special attention to your eating habit. It is important that you consume only a balanced diet and not a diet consisting of junk foods only. All these foods contain lots of fat and salt that may result in some problems in the long run. ...

According to the Journal of Alternative Medicine, aloe vera juice is effective in treating inflammation of the digestive tract. In other studies, aloe has been shown to help prevent arthritis and reduce inflammation of the joints. Originally from Africa, the long, succulent, spiky leaves of the aloe plant have been used ...

There are definitely some sure fire tricks to help you burn fat much faster.

excellent info, keep it coming

Dine and Dish - Dine and Dish Blog - Life is Short - Have Fun!

Dine and Dish - Dine and Dish Blog - Life is Short - Have Fun!