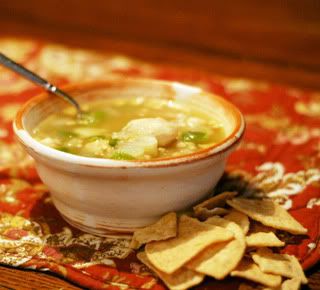 Have you ever purchased a cookbook that you absolutely had to have right that very minute? Nothing at all could sway you from not buying it. I do that with cooking magazines all the time, but rarely is it that a cookbook catches my attention so much that I buy it immediately without running home to read the reviews on it. The Rachael Ray 365 No Repeats cookbook was that way for me. I saw it and immediately had to have it. It is not like I am a die hard Rachael Ray fan or anything. For some reason, the thought of 365 days of recipes seemed like such a brilliant idea to me that apparently I thought I needed that cookbook....right then, right now.

Well, I didn't deprive myself and I purchased the cookbook. That, my friends, was over a year ago and that cookbook has not been used... until now. Now, I'm making up for the fact that it has been sitting on my shelf gathering dust for the past year. In fact, I sat down to make my menu plan the other day and half a months meals were from this book.
I think that when I purchased that cookbook, I fantasized about all of my menu planning being forgotten. I could simply open the Rachael Ray 365 No Repeats cookbook and voila... what fell on that day was what we would have! Not so in a house full of picky little (and big) people! Either way, I did manage to do a couple of weeks of Rachael Ray and each recipe I tried got high marks from my family. So far the "Italian Shrimp and Pasta" and the "Couple of Minute Steaks and Potato Ragu" have been high on the ratings list. There is one recipe, however, that after the first night of making it my son asked my to make it again... the very next night. That recipe was for her Chicken Tortilla Soup with Lime. What a wonderful, hearty recipe to serve this time of year! Even if you have your "go-to" Tortilla Soup recipe, you should give this one a try. It is different enough that I bet you will add it to your rotation.
If you have had 365 No Repeats in your to try pile, make sure to move it up towards the top. There are a lot of simple and delicious recipes that are sure to surprise you!
CHICKEN TORTILLA SOUP with LIME

2 Tablespoons extra-virgin olive oil
1-1/2 pounds chicken tenders (not breaded)
Salt and Fresh Ground Black Pepper
3 Garlic Cloves, chopped
1 Green Bell Pepper, cored, seeded and chopped
1 large Onion, chopped
1 Jalapeno pepper minced (don't touch your eyes after cutting pepper until you have washed your hands)
2 celery ribs, finely chopped
1/2 tablespoon ground cumin
1 tablespoon ground coriander
2 cups yellow corn tortilla chips (about 4 handfuls)
2 teaspoons hot sauce such as Tabasco
1 quart chicken stock or broth (store bought works fine unless you want to make it homemade)
1/2 cup sour cream, for garnish
Zest and juice of 2 limes combined
1/4 cup fresh cilantro leaves (chopped)
4 scallions (green onions) thinly sliced (use both the white and green parts)
1. Preheat a medium soup pot over medium high heat and add the olive oil ... a couple times around the inside of the pan should be fine.
2. Chop the chicken tenders into bite size pieces.
3. Season the chicken with salt and pepper and add to the hot soup pot.
4. Lightly brown the chicken for about 3 to 4 minutes, then add the garlic, bell peppers, onions, jalapenos, celery, cumin, coriander, salt and pepper. Continue to cook for 3 minutes, stirring frequently.
5. While that is cooking place the tortilla chips in a food processor and process until well ground. I f you don't have a processor place the chips in a sealable plastic storage bag and crush with a rolling pin.
6. Add the ground tortilla chips to the soup pot and stir to combine.
7. Add the chicken stock and bring the soup to a simmer.
8. Simmer the soup for 15 minutes
9. Ladle the soup into bowls and garnish with the sour cream. Pass the lime zest, chopped cilantro, and sliced scallions for each person to add to taste.
Makes 4 servings
Posted
on Thursday, February 14, 2008 at 11:01PM
by
Kristen
|
14 Comments
|
9 References
References (9)
References allow you to track sources for this article, as well as articles that were written in response to this article.
Dine and Dish - Dine and Dish Blog - Rachael Ray 365 No Repeats

Football is genuinely 1 of the most significant sports in America. It has a important following.

Dine and Dish - Dine and Dish Blog - Rachael Ray 365 No Repeats

Dine and Dish - Dine and Dish Blog - Rachael Ray 365 No Repeats

Dine and Dish - Dine and Dish Blog - Rachael Ray 365 No Repeats

Dine and Dish - Dine and Dish Blog - Rachael Ray 365 No Repeats

Dine and Dish - Dine and Dish Blog - Rachael Ray 365 No Repeats

Dine and Dish - Dine and Dish Blog - Rachael Ray 365 No Repeats

The students with lack of confidence find quite difficulty in adjusting with the society. They are not able to live and enjoy their student lives in a way that other students do.