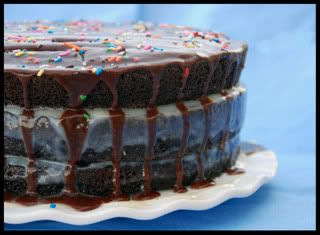 For the past couple of weeks, I have turned into one of "those" bloggers. You know...the bloggers who take the time to update their own blog but do not go and visit all of the blogs of those who make comments. I really believe that it is important to frequent the blogs of those who frequent Dine and Dish. I love and appreciate your comments and I love your blogs...I so miss reading them, but life has been so hectic lately and to be frank with you, my need for at least a few hours of sleep at night is starting to take over.
Soon, very soon, things will slow down. In the meantime, can I make it up to you with chocolate? This was a rich and delicious cake...even better the next day after it had been in the fridge!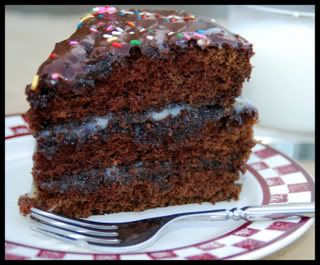 Fudgy Pudgy Cake - from the most recent issue of Taste of Home
12-14 servings
1 hour 30 min prep
In a small bowl, combine cocoa and hot water until smooth; cool. In a large mixing bowl, cream butter and brown sugar. Add eggs, one at a time, beating well after each. Combine the flour, baking soda, baking powder and salt; add to creamed mixture alternately with buttermilk and cocoa mixture. Stir in vanilla.

Pour into three greased and waxed paper lined 9 inch round baking pans. Bake at 350 for 20-25 minutes or until a toothpick comes out clean. Cool for 10 minutes; remove from pans to wire racks to cool completely.

In a small saucepan, combine sugar and cornstarch. Gradually stir in milk until smooth. Bring to a boil; cook and stir for 2 minutes or until thickened. Remove from the heat; stir in vanilla. Cool completely. In a small mixing bowl, cream butter. Gradually beat in cooled mixture. (If you are impatient like I was and don't wait for this to cool completely before beating it with the butter, you'll end up with a pudding/glaze like mixture instead of the whipped mixture. It was still good though!)


Place one cake layer on a serving plate; spread with half of the filling. Repeat layers. Top with remaining cake.

For glaze, in a small saucepan, melt butter; stir in cocoa until smooth. Add milk. Bring to a boil. Remove from the heat. With an electric mixer, beat in confectioners' sugar until blended. Cool for 15-20 minutes; spread over top of cake. Garnish with chocolate curls if desired. Store in the refrigerator.
Posted
on Wednesday, August 15, 2007 at 11:59PM
by
Kristen
|
32 Comments
|
2 References
References (2)
References allow you to track sources for this article, as well as articles that were written in response to this article.
blog hosting [url=http://wordpress.com]blog hosting[/url] blog hosting [url= http://wordpress.com ] blog hosting [/url]