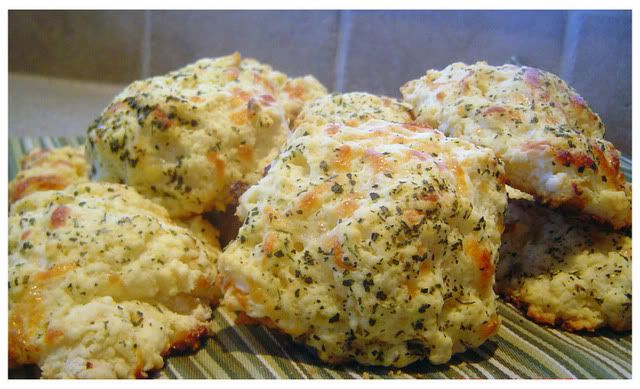 Bisquick is one of those controversial ingredients that can cause quite a stir among people who cook. Are you a "real" cook if you use a pre-boxed mix for anything or should everything be from scratch? The same controversy surrounds cans of cream soup (cream of chicken, cream of mushroom, etc). Is it considered cheating to use such ingredients instead of whipping up your own cream sauce to utilize in recipes?
In my opinion, if it comes out of your kitchen...your oven... your mixer... it is homemade. Everyone has time limitations, budget limitations, health limitations, skill limitations. People shouldn't feel ashamed for using shortcuts, like baking mixes, when they cook. If it is easier and if it gives them the confidence they need to bake something great in the kitchen, then I think they should go for it!
Mimi at French Kitchen in America dubbed March 15th as Bisquick baking mix day. It had been awhile since I had purchased Bisquick but I was excited to have the excuse to make one of my favorite Bisquick breads... Red Lobster's Cheddar Bay Biscuits. The recipe I use has white wine in it, verus the versions with the milk. This adds such a unique flavor to the biscuits. These are so quick and easy and impressive to throw together for a quick weeknight meal. Get our your Bisquick and bake something up today!
From Recipezaar:
Cheddar Bay Biscuits
1. Preheat oven to 400 degrees.

2. Combine garlic butter ingredients, mixing well.

3. Combine biscuit ingredients in a medium bowl.

4. Mix until well combined.

5. Drop approximately 1/4-cup portions of the dough onto an ungreased cookie sheet.

6. Brush garlic butter on top before baking.

7. Bake for 14-16 minutes or until the tops of the biscuits begin to turn light brown.

8. Serve warm.

9. Brush garlic butter on top before serving.
Posted
on Thursday, March 15, 2007 at 12:47PM
by
Kristen
|
17 Comments
|
5 References
References (5)
References allow you to track sources for this article, as well as articles that were written in response to this article.